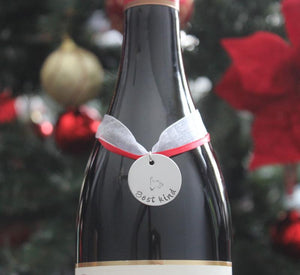 Grab a bottle of wine, add a funny wine charm for your friends or family to enjoy! Charm can be used as a wine glass charm after.
This stainless steel wine bottle charm will come complete with ribbon for tying around the neck of your favorite wine bottle. Makes great gift!
Ribbon color will vary. Available phrases: Loves it, Good fer what ails ya, #momjuice, It's wine o'clock, Wine Rescuer and Where's the Wine-Fi?