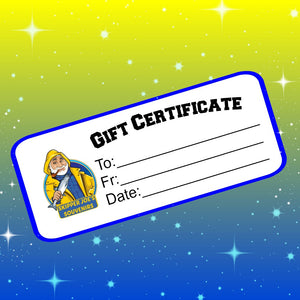 WHAT'S AN E-CERTIFICATE?
E-certificates are gift certificate that you can purchase something on our website. Once purchased, we will email you a coupon code to use equal to the value of your gift certificate. 
If you don't know what you want or you want to save up for that special gift for YOURSELF or someone else, here's your chance to do it! Just purchase an e-certificate of your choice, we'll email you within 24 hrs with a special code to use when your ready! 
STACK 'EM
Stack your e-certificate by buying them when you can, we'll keep them on hand until you're ready to purchase something you love! Just let us know via email when you've got enough certificates stacked and we'll email a coupon code for you to use with all your stacked e-certificates combined. 
GIVE A GIFT FROM HOME
Do you know someone who you just don't know know what to buy for? Don't worry. We got you covered! Purchase this gift certificate and tell us in the notes the Name and Email Address of the person deserving of this special emailed-gift-certificate. We'll send them an email on your behalf letting them know they are loved by you, and give them a special coupon code to use on our website when they are ready to make a purchase. Give us 24 hours to send that email. 
**DISCOUNT OR SIGN UP DISCOUNT CODES CANNOT BE USED TOWARDS PURCHASE OF E-CERTIFICATES**