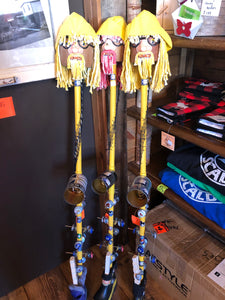 Grab your ugly stick and have a jig!
Check out these handmade ugly sticks. Each piece comes with stick for playing and comes apart in the center for storage. Please note: some assembly Is required on shipped ugly sticks. Each ugly stick is different and can range in style.
What's an ugly stick?
An ugly stick is a traditional Newfoundland instrument made up of usually broom/mop handles, beer caps, tin cans and other noise makers. The instrument is played with a stick. 
Made in Newfoundland