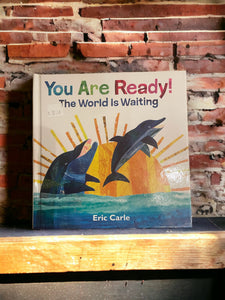 With Eric Carle's signature bright illustrations featuring an array of charming animals, You Are Ready! encourages us to be open to new possibilities and be brave in the face of the changes and challenges that life lays in front of us.
Like Oh, the Places You'll Go! by Dr. Seuss, in this book Eric Carle reminds young readers that the key to achieving all they desire lies within. This book is the perfect gift for graduation or for anyone of all ages ready for their next big step.
You are ready.
It is time for you to spread your wings and fly.
The world can seem like a scary place.
But you are ready.
Other favorite classic books from Eric Carle include The Very Hungry Caterpillar, The Grouchy Ladybug, From Head to Toe, and many others.